SIdE courses and summer schools are open to scholar and practitioners of all levels, but are particularly aimed at junior researchers and PhD students.
To attend SIDE Summer School and Courses, the SIDE mermbership is required.
Directors of the Summer Schools: Juri Marcucci and Francesco Ravazzolo
Carlo Bianchi grants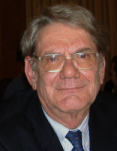 We are pleased to announce that two full registration fee waivers are available for worthy PhD students who opt for the participation in presence in Bertinoro. These grants are established in memory of professor Carlo Bianchi, the historical organizer of the SIdE summer schools. The first fee waiver is funded by a donation of the Carlo Bianchi family, while the second is offered directly by SIdE.
To be eligible for the scholarship, PhD students must register before May 30th, 2021.
The SIdE Commission will evaluate the CVs submitted at the time of enrollment in the summer school and will inform the winners by June 15th, 2021.
Carlo Bianchi grants 2021 winners:
The SIdE Committee has assigned the two fee waivers to:
Fabrizio Ghezzi (Universita di Pavia)
Francesca Collevecchio (Università Politecnica delle Marche)
Summer Schools 2021   - 35th Edition -